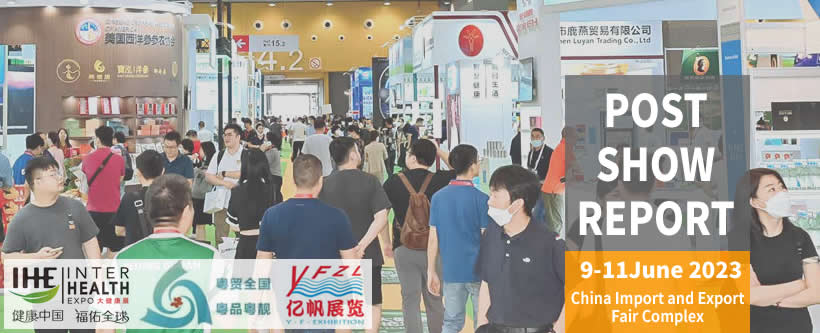 Co-organizers

China National Health Association
China National Medicine Exchange and Cooperation Working Committee
National Food Industry Productivity Promotion Center
China Science International Union of Medical Science Transformation
International Academy of Academicians Medical Science Committee
World Federation of Chinese Medicine Societies (WFCMS)
Bird's Nest Branch of China Pharmaceutical Culture Society
Chinese Pharmacy Management College
Guangdong Health Care Association
Maternal and Child Service Industry Branch of Guangdong Health Care Association
Guangdong Health Association
Guangdong Provincial Health Association
Guangdong Province Hospital Association
Guangdong Provincial Association of Ethnic Medicine
Guangdong Province Industrial Park Association
Guangdong Province Ginseng Association
Guangzhou Pharmaceutical Profession Association
Bird's Nest Industry International Alliance
21st CENTURY PHMACY

Organizer

Guangzhou Yi Fan Exhibition Co.,Ltd.
Supporters

Zhongke Jianlan Group
Guangdong Pharmaceutical Retail Industry Association
Guangdong Cross-Border E-Commerce Association
Guangdong Provincial Food Society Probiotics and Dairy Professional Committee
Guangdong Elder Health Care Association
GuangDong Food Circulate Association
Yunnan Health Food Industry Association
Guangdong E-Commerce Association
Shandong Health Food Industry Association
Guangzhou Medical Industry Association
Guangzhou International Medicine Port
Shenzhen Medicine Profession Association
Zhuhai Pharmaceutical Distribution Industry Association
Foshan Shunde Health Care Chamber of Commerce
Foshan Beauty Association
Guangdong-Hongkong-Macao Greater Bay Area Beauty Industry Promotion Association
Traditional Chinese Medicine Science and Technology Industrial Park of Co-operation between Guangdong and Macao
Wuchang Municipal People's Government
Changchun Municipal Bureau of Commerce
Heilongjiang Qing'an County People's Government
Shangri-La Deqin County
Guangxi Province Quanzhou County People's Government
International Supporters
TRADEXPO
The Surgical Instrument Manufacturers Association of Pakistan (SIMAP)
Asian Federation of Societies for Lactic Acid Bacteria (AFSLAB)
Aegean Exporters' Associations
CzechTrade
Italian Trade Agency
Invest in Spain
PRO ECUADOR
InvestChile
International Olive Council
Exhibition Scale
30,000
m
2
---
Exhibitors
837
---
Professional buyers
33,684
Exhibitors are enthusiastic about participating in the exhibition, and the future can be expected
The 31st China(Guangzhou) International Health Industry Expo was successfully concluded on 9-11 June 2023 at the China Import and Export Fair Complex. The success of this exhibition heralds the vigorous development of the International and domestic health industry, and also shows everyone's firm confidence in the future of the health industry. The exhibition lasted for 3 days. Focusing on the theme of "Health Industry China, Brings Well Being To The World", many industry leaders and cutting-edge brands had a smart collision with more experienced and mature industry professionals on the spot, which not only showed vigorous industry opportunities, It also points out the wind direction for future industry trends. The successful holding of this exhibition is inseparable from the love and support of all guests, Chinese and foreign exhibitors, partners and audience friends. It is because of everyone's responsibility and persistence that we once again jointly create an annual big health industry, chain event.
Exhibitors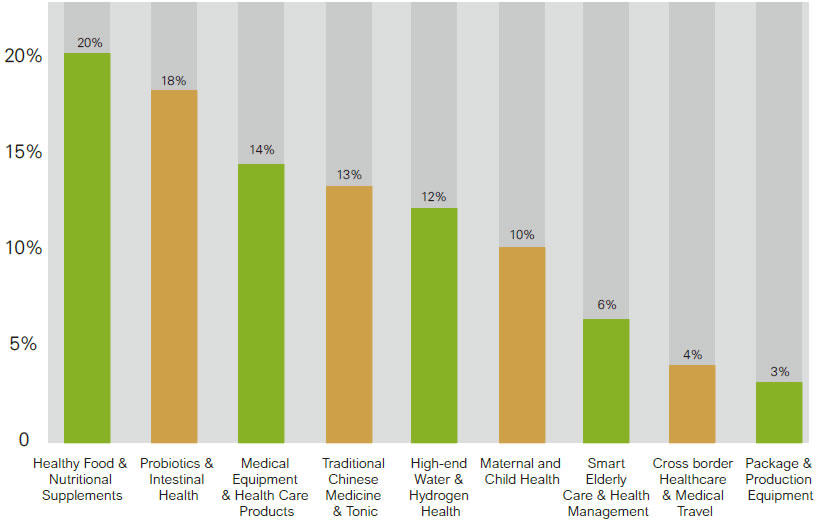 Exhibiting Goals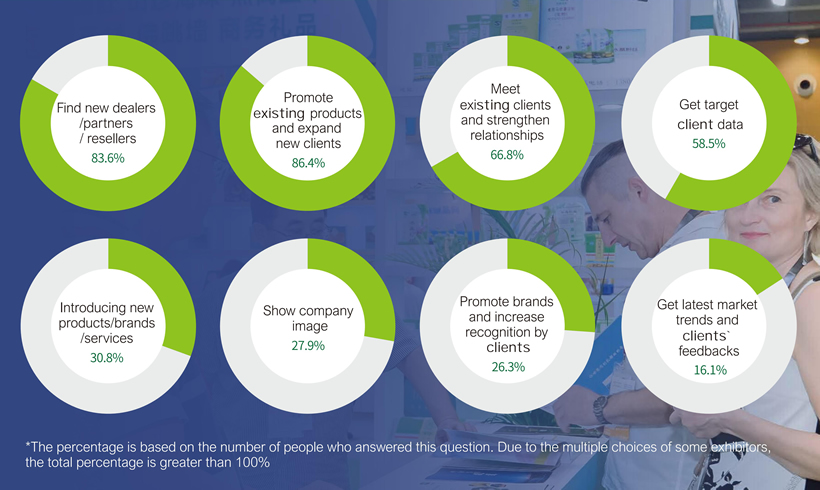 Exhibitor brands
Featured Sectors
Healthy Food & Nutritional Supplements
Probiotics/Intestinal Health
High-end Water & Hydrogen Health
Maternal and Child Health
Traditional Chinese Medicine & Tonic
Smart Elderly Care
Medical Equipment
Beauty and Health Care Products
Package & Production Equipment
Cross border Healthcare & Medical Travel
Exhibitor Testimonials
It's very happy to exhibit in the IHE 2023 with our brand ProGsterol, it was designed for pre-diabetes and type II diabetes care. IHE is typical health expo in China, it's an important plat for us to show.

—— Mr. CHUNG YONG JI, CEO of Caregen Co., Ltd.

Meiga Health base in HK, and the products are 100% made in Canada. This time we bring our star products Ensonkan brand, NMN+PQQ and Vegan Collagen. The exhibition has achieved our expectations and we will participate every year.

—— Mrs. Congmei Luo, Founder & Executive Director, MEIGA HEALTH HOLDINGS LIMITED.

The exhibition is very good, and Chinese people are very kind! Our products like saffron, organic nuts, flower teas,herbals etc. are very popular during the show. We meet many potential buyers and will keep exhibiting next year.

—— Mr. Mehdi Salehi, General Manager, Salam Rouyan Rastak Co.

Recommend by one of our business partner, this is the first time we participate in IHE. Our AI Biowave Resonance Cell Repair Module attract many buyers to try, and we sign orders at the exhibition site. We will definitely expand to larger booth for the next year show!

—— Mrs. Suyan Chen, Director of SI CHIT GROUR,LIMITED.

Thank you for assistant us to smoothly participate in our maiden exhibition in China. It's a good experience! I will introduce IHE to other peer companies to participate.

—— Anna Lee, Swiss Bionic Solutions Asia Limited.
Survey for Exhibitors

Visitors by Regions
Visitors Source
Visiting Categories
Distributors/Agents 20.5%
TCM Clinic/ Chinese Medical Hospital / Health and Beauty Salon 14.37%
Confinement Center/ Maternal and Child Store/Maternity Hospital 12.1%
Health Product Direct-sale Store 10%
Rehabilitation Centre/Retirement Center 9.88%
National Chain Pharmacies 7.9%
Supermarket/Retail Stores 5%
Imports and Exports/International trade 4.23%
Manufacturers 4.02%
Community Group Buy/New Retail 3.99%
Cross Border E-commerce 3.34%
Government/Association/Consulates/Organizations 2.67%
Media/Internet 1.56%
Hotel/Catering 0.44%
Visiting Objectives
Purchase 45.69%
Looking for distributors and business partners 25.96%
To know the market needs and innovative technology 18.51%
Stay connect with supplier and dealers 15.44%
Attend forum and conference 11.23%
Evaluate the possibility of exhibiting 5.69%
Others 2.14%
VIP Buyers
VIP Group Buyers
Guangdong Health Care Association
Zhuhai Health Care Association
Jieyang Health Industry Association
Maternal and Child Service Industry Branch of Guangdong Health Care Association
GuangDong Food Circulate Association
purchasing group of GZ TV program "chef meet good foodstuff"
China Hotel Association Procurement Committee
Guangdong Overseas Chinese Returnees Association
Guangdong Health Association
Shenzhen Organic Product Association
Shenzhen Medicine Profession Association
Zhuhai Association Of Health-Protection Food
Guangdong Chain Operations Association
Guangzhou Food Enterprise Association
Guangzhou Pharmaceutical Profession Association
Dongguan Ethnic Medical Association
Global Union
Importfood.Net
Hong Kong International Chinese Chamber of Commerce
Foshan Shunde Medical and Health Care Chamber of Commerce
Guangzhou medical Industry Association
Guangdong Elderly Health Commission
Guangdong Province Hospital Association
The Surgical Instrument Manufacturers Association of Pakistan (SIMAP)
Foshan Beauty Industry Association
IYENGAR YOGASHALA
Guangdong-Hongkong-Macao Greater Bay Area Beauty Industry Promotion Association
Visitor Testimonials
This exhibition host very good! The organizer offer best service to the VIP Guest. We organize nearly 100 member companies to come and communicate with the exhibitor representatives one by one. The organizer offer bus service from Haizhu to the exhibition complex, very convenience and save much time for the buyers. We expect the cooperation for next year!

——Zhuhai Health Care Association

We see various health food and health care products in IHE 2023. It's a very good plat-form to know the latest market trend for health industry. We will definitely organize more members to come and visit next time!

——Jieyang Health Industry Association

Every year, IHE Health Expo launches numerous new products from the health industry, allowing us to understand market demand and future consumption directions. At the same time, this is also a good opportunity to broaden our's horizons and gain exposure to many new brands. Looking forward to the next exhibition and hoping to bring us more high-quality health enterprises to cooperate!

——Mr. Huang, General Manager of JD Health

The overall impression of this exhibition is very good for us! The products of the exhibitors are all good, which provides us with a wide range of choices for our maternity center. In addition, the organizing committee's services are high standard, very meticulous and thoughtful. Provided us with a lot of convenience during the visit, and provided us with VIP guest card, as well as on-site business matching services.

——Mr. Ou, General Manager of Golden Cradle Maternity Center

We have deeply communication with several exhibitors at VIP Guest Area, we considering purchase their products. Thank for the organizer provide the efficient platform to help with both supply side and purchase side. We will see you next time!

——Mr. Lin, Manager of Jieyang Guoyu general hospital Co., Ltd.

As a pharmaceutical chain companies, we would like to know the latest market trend of health industry. According to the newest information, we will adjust the purchase strategy accordingly. IHE gether many high quality products, we gain a lot from the exhibition.

——Mr. Zhang, General Manager of Guangdong Liangkang Pharmaceutical Chain Co. , Ltd.
Conferences and Special Events
Around the theme of "Health Industry China, Brings Well Being To The World", the 31st Guangzhou International Health Exhibition presented a number of activities with different content dimensions. More than 100 brands participated in the activities, and more than 3500 audiences listened and interacted on site. Each event was almost full. Their display and sharing have inspired new inspiration for people in the big health industry, triggered new opportunities, opened a new perspective for the future big health ecology, and expanded a new way of industry cooperation.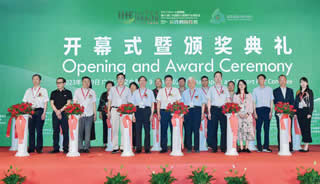 Opening and Award Ceremony
The Opening and Award Ceremony brought together national academicians,leaders from various provinces and cities, diplomats from foreign embassies and consulates in Guangzhou, dozens of domestic and international industry associations, research institutions, universities, and health organizations, as well as hundreds of top-notch industry experts, industry media, and other industry circles. This gathering of distinguished individuals empowered the health industry and contributed to the vigorous development of China's health industry.During the opening ceremony, the organizing committee presented awards such as the Excellent Product Gold Award and Top Ten Brands.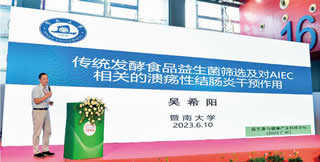 Probiotics and Health Industry Technology Forum
The Probiotics and Health Industry Technology Forum focuses on "Probiotics and Health Industry" and has invited experts and scholars in the field of probiotics, including Professor He Guoqing from Zhejiang University, Professor Wu Xiyang from Jinan University, Professor Li Li from South China University of Technology, and Professor Fang Xiang from South China Agricultural University. They have shared the cutting-edge research achievements in the field of probiotics, analyze the challenges in industry development, and summarize the future trends of the industry.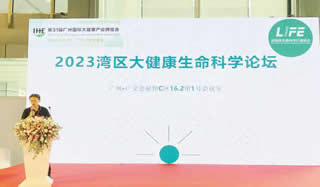 2023 Bay Area Health and Life Sciences Forum
This forum is organized by Guangzhou Yi Fan Exhibition Co.,Ltd. and sponsored by Shenzhen Life Sciences Industry Association. With the aim of "showcasing achievements,promoting exchanges, and facilitating trade," the forum seeks to foster communication and collaboration between upstream and downstream industries. The forum has invited senior experts from the Chinese Academy of Sciences in antibody engineering, as well as experts and industry elites including company chairpersons, chief bioinformatics scientists, and directors of biotechnology services, to provide in-depth analysis and insights into the life sciences industry.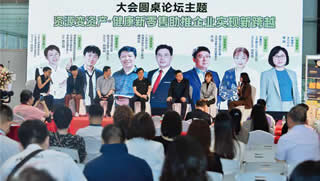 China International Health Product Retail Conference
The conference, with the theme of "Marketing Growth and Resource Transformation," has received strong support from organizations including the Chinese Future Studies Society's Artificial Intelligence Research and Development Branch, Guangdong Society of Social Medicine, Watsons Personal Care Stores Ltd., Mannings Guangdong Retail Company Limited, and Dashenlin Pharmaceutical Group Co.,Ltd. By focusing on the application of scientific research materials in retail and assisting enterprises in building a "service-oriented + private domain prominent" model, the conference aims to help companies seize new retail opportunities, achieve marketing growth, and connect with retail new prospects. Additionally, a guidance team from the National Health Commission attended the event in person to interpret and guide policies related to the Bay Area, supporting small and medium-sized enterprises in the Bay Area to harness policy dividends.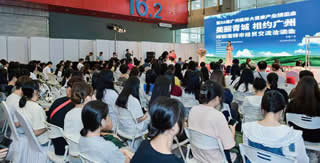 Hohhot Economic and Trade Exchange Conference
The Hohhot Economic and Trade Exchange Conference is organized by the Hohhot Committee of China Council for the Promotion of International Trade (CCPIT) with the aim of promoting the advantages of Hohhot's health industry and attracting investment in the health industry. It aims to promote local high-quality health brands and products and facilitate the expansion of enterprises into the national market.
2023 "Guizhou Brand" Promotion Conference in Guangzhou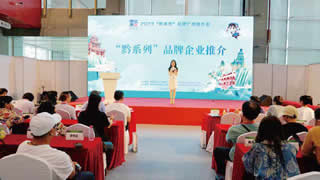 In recent years, Guizhou Province has vigorously promoted the development of "Guizhou Brand" ethnic cultural industry brands by leveraging local resource advantages and ethnic characteristics. It has established a distinctive brand system for the ethnic cultural industry with Guizhou characteristics. The "Guizhou Brand" Promotion Conference featured the exchange of procurement agreements for "Guizhou Brand" branded products and a segment dedicated to introducing "Guizhou Brand" brand enterprises, showcasing a wide range of high-quality products. This initiative aims to accelerate the high-quality development of the ethnic cultural industry and the economy in ethnic regions, promote the market presence of Guizhou products, and contribute to rural revitalization.
Professional Media
Media Cooperation
IHE China continues to innovate the content and form of communication. By radiating more than 100 industry media around the world, intensive campaign and high-frequency reports throughout the year, IHE China's latest highlights and latest trends are timely pushed, and multiple measures are taken to strengthen the international voice and comprehensively disseminate IHE China's super strength continues to expand the global influence of the exhibition.