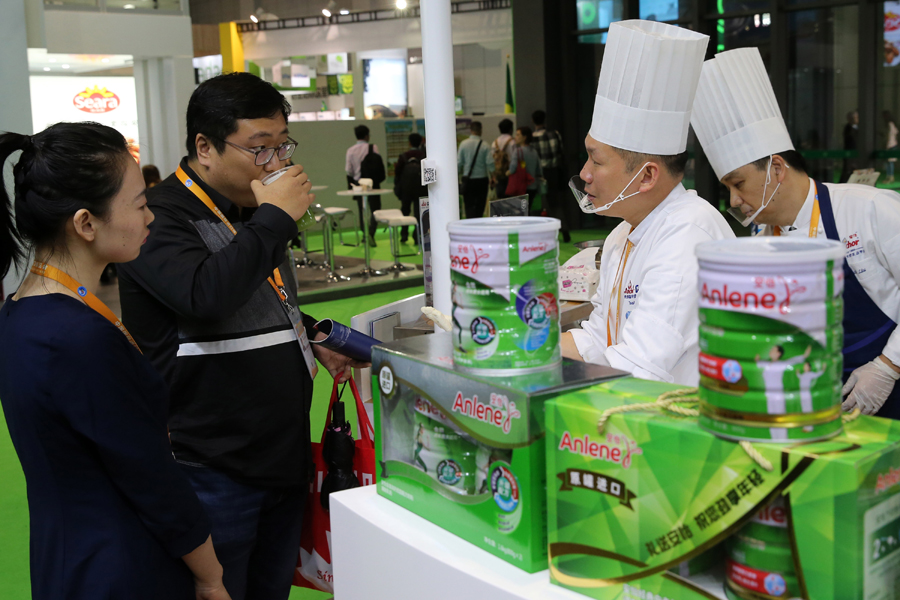 A visitor tastes a milkshake at the booth of Fonterra, a global dairy exporter and manufacturer from New Zealand, at the CIIE in Shanghai on Wednesday. [Photo by Wang Zhuangfei/China Daily]
Company says the address boosts confidence in the Chinese market
The China International Import Expo is helping to provide new business opportunities, and President Xi Jinping's keynote speech at the opening ceremony was "incredibly encouraging", said Christina Zhu, president of dairy company Fonterra China.
"President Xi said the Chinese economy is like a sea," she said. "From his speech, we understand China's determination to maintain the opening-up policy, and this has reaffirmed our confidence in operating in the Chinese market.
"As always, we are committed to contributing to the Chinese economy and will grow with the China dairy industry."
Fonterra China is the local arm of Fonterra Co-operative Group, a global dairy exporter and manufacturer in New Zealand.
Deals totaling more than 12 billion yuan ($1.7 billion) have been signed at CIIE.
Anchor Food Professional, Fonterra's food service business, has signed a deal to provide goods worth 12 billion yuan to Xiamen C&D Corp, a large industrial and investment enterprise in Xiamen, Fujian province.
Fonterra's consumer brands, such as Anchor and Anlene, have also signed agreements to sell goods worth 50 million yuan to an alliance of retailers represented by Bailian Group, a State-owned retail conglomerate in Shanghai.
"As the largest company in New Zealand, we boast advanced technology and experience in dairy production," Zhu said. "It is our privilege to take this opportunity to showcase Fonterra as a trusted dairy nutrition source to our consumers in China."
China is the company's largest, most important and fastest-growing market, accounting for about 25 percent of global sales, she said.
Fonterra has brought a wide range of products to the expo, covering consumer brands and food service and ingredients businesses. The products target a range of potential customers, including mass consumers, bakeries, coffee shops and teahouses, restaurants and all types of food manufacturers.
"We're looking forward to arranging more deals during the expo because the full range of exhibits and the interaction at the booth will help participants learn more about Fonterra and prompt interest in our products," said Paul Washer, commercial vice-president of Fonterra China.
There is an obvious trend in China for people to include more dairy products in their diet, especially fresh milk, and Fonterra is confident of meeting the new market demand because innovations and new technologies allow the company to adapt quickly to even subtle changes in the market, he said.
China's opening-up policy provides greater convenience and opportunities for foreign companies, including Fonterra, which has benefited from good trade relations between China and New Zealand.
Moreover, the Chinese leadership's recent statement that the country will open up further has given Fonterra even greater confidence to expand its business in China, because dairy exports are vital to New Zealand and Fonterra.
About 95 percent of the milk produced in New Zealand is exported, and Fonterra collects more than 85 percent of that milk, Washer said.
Fonterra entered China 40 years ago. In addition to producing dairy products, it has also invested in building environmentally friendly farms in China.