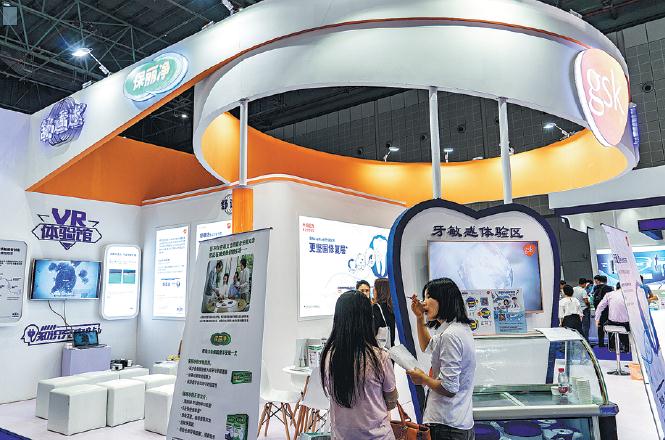 GSK aims to become one of the most innovative, best performing and trusted healthcare companies
Editor's Note: This year marks the 40th anniversary of China's reform and opening-up. China Daily interviewed top executives of well-known multinational companies for their views on the country's socioeconomic development.
Please use three words to describe China's changes in the past 40 years.
Growth, innovation and global.
What are the biggest achievements in China since the introduction of the reform and opening-up policy 40 years ago?
Having a 100-year legacy of helping to transform the health, lives and future of people around China with our pharmaceutical products, vaccines and consumer products, GSK is privileged to have both witnessed and been a part of the significant transformation of China over the past 40 years.
We have seen first-hand the country's 40 years of exponential economic growth, a journey from Made in China to Create in China. It has also been a period that has transformed people's lives across the country. Today, China is entering a new stage of economic development, driven by a focus on sustainable and quality growth, while playing an increasingly important role on the world stage.
The healthcare industry in China has also undergone significant changes. Improvements in the infrastructure, the broadening of insurance coverage, and strong support for research and development, as well as technological innovation ... all these have had a profound impact on China's healthcare industry, and has enhanced the quality of the healthcare products and services that Chinese people can access.
In addition, we have seen a surge in the innovation and investment in China's healthcare industry in recent years, driven by policy support, unmet medical needs, and substantial funding from both private and public sectors. The significant technological innovation and advancement of digital solutions to improve patient access in this market is also creating room for imagination and unprecedented opportunities.
As a healthcare company, we are excited to see all these achievements, and look forward to an even brighter future guided by the government's Healthy China 2030 blueprint, as well as its resolve to transition from a treatment-centric into a health-centric nation.
What's the biggest challenge China faces today and how can the country overcome it?
China's large population, an aging society, rising levels of noncommunicable diseases, a hospital-centric health delivery system, unmet medical needs and the rising expectations of the growing middle-income population have presented new challenges for China.
However, we have many reasons to be positive. Science and technology are transforming the way we research diseases, develop innovative drugs, and diagnose and treat patients. The healthcare industry is going through an exciting time globally, and most notably in China, where an innovative system and ecosystem are creating a growing pool of talented healthcare scientists and professionals, innovative technologies, and companies that have the potential to transform tomorrow's healthcare environment.
In addition, the Healthy China 2030 blueprint has made the health of each citizen a precondition for future economic and social development. It also emphasizes the role of innovation and scientific development, and the importance of fair access to healthcare across the nation.
This is our goal at GSK as well: To be one of the world's most innovative, best performing and trusted healthcare companies, we will look to partner with China to accelerate these advances in science and technology for the benefit of health.
How has your company benefited from the country's reform and opening-up policy?
Since China's implementation of the reform and opening-up policy 40 years ago, GSK has grown together with China.
GSK was the first multinational pharmaceutical company to form a joint venture on the Chinese mainland; the first multinational pharmaceutical company to set up a full value chain in China, from R&D and manufacturing, to commercialization; and the first company to implement an operating model that delivers high-quality information to healthcare professionals that avoids potential conflicts of interest.
None of this would have been possible without the reform and opening-up policy.
Today, we remain committed to bringing our innovative pharmaceutical products, vaccines and consumer products to Chinese patients and consumers. We believe we are even better placed to benefit and contribute to a healthy China with the government's continued resolve to intensify healthcare reform, support innovation and increase access to and the affordability of imported innovative drugs.
Has competition become intensified between your company and Chinese companies?
The rise of China's innovative healthcare and biotech companies, together with the rise of Chinese tech startups, is creating a new powerful combination that has the potential to transform the health of people across China and around the world.
Instead of competition, we see this as an opportunity to create closer collaboration with innovative Chinese companies to support patients in better and more innovative ways.
For example, when we launched Cervarix in 2016, the first HPV vaccine licensed for use in China, we partnered with Ali Health, Alibaba's healthcare subsidiary, to establish an online-to-offline solution to help patients to find HPV vaccination points nearby, covering 1,493 vaccination locations. They can use the tool to book vaccination appointments online, with 136,000 booked between August 2017 to September 2018. The solution also provides education on various diseases.
How do you view China's role in the world today?
China is the second-largest healthcare market in the world and is today one of the fastest-growing healthcare markets in the world. With the rising power of technology and innovation, China has tremendous potential to positively affect the health of people in China and around the world.
We deeply believe that China is playing and will continue to play an important role in shaping the future of healthcare.
As China becomes GSK's fastest-growing market, it is encouraging to see China's continuous openness to the world and support for foreign businesses operating here.
With GSK's mission to be one of the world's most innovative, best performing and trusted healthcare companies, we look to partner with China to make a positive difference to China and the world for the benefit of patients and public health.
What's the most unforgettable experience you have had in China?
Since moving to Shanghai with GSK in 2014, I have made it my routine to visit a different city every month to spend a week with customers, local government stakeholders and employees. We call this the GSK Engagement Week.
I have had many unforgettable engagement weeks, from Harbin to Guangzhou, from Xi'an to Urumqi, and from Qingdao to Kunming. These engagement weeks help me better understand the diversity of China and the beauty of its cities and people. Most of all, they help me connect to our large team and understand their daily work, and how we can better serve our patients.
Apart from economic development, what progress in other fields have you witnessed in China in the past 40 years?
China is now leading the world in technological innovation, characterized by the fast development of the mobile internet, big data and artificial intelligence technology. The significant technological innovation and advancement in this market is filling the world with imagination.
I believe China will play an important role in shaping the future of healthcare, and at GSK we are open to and look forward to cooperating with our Chinese partners to drive more innovation and tackle more challenges facing the industry